Promotional Products:
Our design team have worked on a vast range of branded bespoke packaging projects and designs.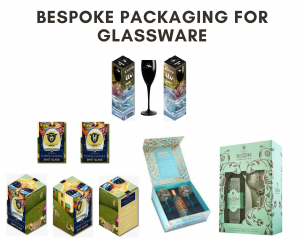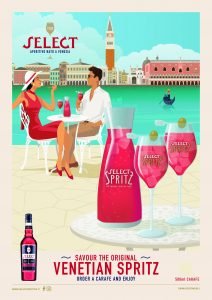 Enjoy Venetian Spritz with a branded carafe and glass!
We loved working with Venetian Spritz producing high quality Branded Carafes and Glasses.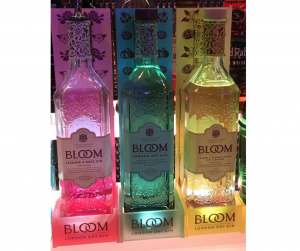 Brief: Bloom came to us to create a bespoke bottle display unit that would light up and promote their four flavours of Lemon & Elder Flower, London Dry Gin, Jasmine & Rose Gin and Strawberry Gin.
Solution: A truly bespoke bottle glorifier unit with 4 sections which fitted the 4 Bloom bottles individually.  The glorifier had   magnetic connectors to link the panels together. The display unit has helped increased sales in bar venues by giving the brand a unique stand out presence.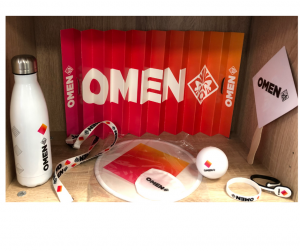 Omen Brief:  Omen came to us to create a range of merchandise that they could giveaway for trade shows around Europe and create a brand presence.
Solution: We came up with a range of products within 4 weeks turnaround which included Omen branded bottles, wristbands, pens, lanyards clap banners, stress balls and much more. All the items were then repacked into individual packs and sent around Europe for their individual trade teams.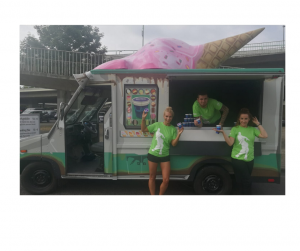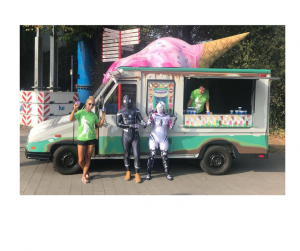 Fortnite Brief:
To create an ice cream van which could be driven down to Cologne in Germany to support Gamescon and celebrate their 10 year anniversary.
Solution:
The Ice cream van we created was fully branded and had a 3D ice cream cone at the top of the van to create a stand out presence with a radio system which played the Fornite birthday tune.
The ice cream van which had a supporting trailer then drove around the city with our events team giving out free Fornite banded ice cream tubs to all the gamers around the city.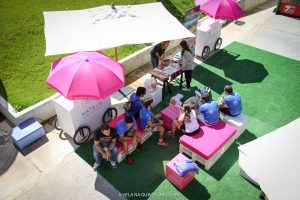 Mateus Brief: To target a younger audience of Mateus drinkers by sampling the rose to thousands of people around the country.
Solution: Our events team travelled the country with Foodies shows from Brighton, London, Cambridge ,Bristol Manchester covering 8 events in total. The marque, hats, straws, polo shirts , sunglasses were all pink. We managed to create a  a sea of pink around the country within the Foodies shows and most importantly 10,000 s of new people sampled the brand and create a new audience to the brand.