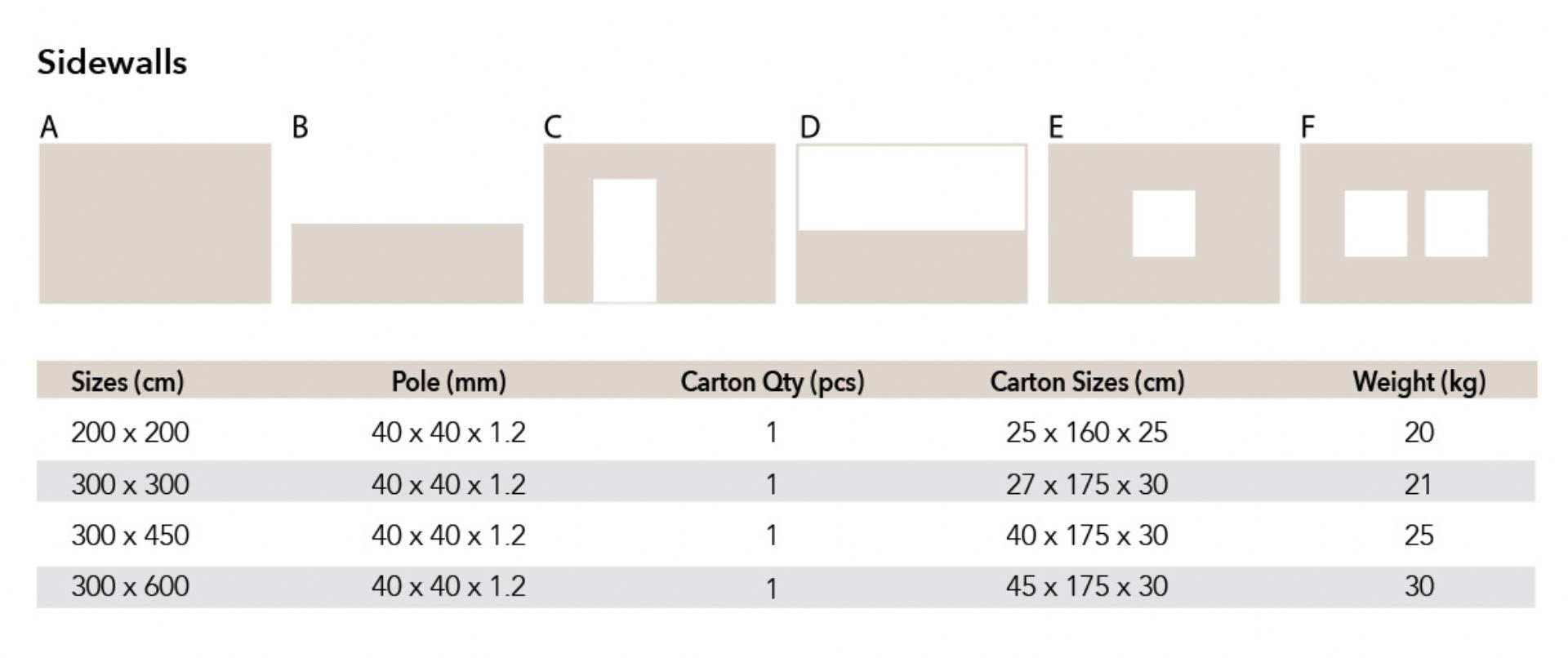 Our medium gazebo offers style and practicality in an indoor or outdoor setting. Our medium gazebo measures 300x300cm and is composed of an aluminum frame and a reinforced crossbar. This gazebo also features a height control and locking system, folding frame system and an original carrying bag with optional wheels. This branded gazebo is made of polyester fabric that can be further customised between 180-240 gr/m².  Additionally, the medium gazebo boasts a high UV resistance and is both water-repellent and water-proof. This item only takes 2-3 minutes to fully set up.
The medium gazebo can be designed entirely to your specifications. Apply your own logo or branding to create the perfect promotional tool. Available print options include screen print, digital or serigraph. We provide a pre-production proof of concept on all of our orders before they enter mass production. If you're looking for gazebos of a slightly different style, why not take a look at our full branded gazebo range?
Further information
If you can't find what you are looking for or require a bespoke item contact our team today with your requirements, we're here to help.  
With access to over 100,000 products, All In One Merchandise can source anything you require, in any quantity. We can apply your logo to any material or product, and have access to a global network of freelance designers to visualise your logo or bring your idea to life. 
As part of the All In One Group process, you will receive a dedicated Account Manager to oversee your project. Your Account Manager will ensure continuity and fulfillment of your brief.
All In One Merchandise
We're a company that specialises in providing a wide range of inspirational merchandise, including branded promotional glassware, personalised sports clothing, educational accessories for schools and eco-friendly merchandise products.
Of course, we supply all the usual corporate gifts you'd expect like power chargers, made to order promotional clothing, low-cost USB memory sticks, or pens and pencils. But don't feel restricted by the thousands of promotional products you see on this site. We can add your logo to virtually anything. If the product doesn't exist we'll use our global merchandise network to source it, make it and deliver it.
Take a look at examples of unique promotional items we've created for our clients. If you have a corporate merchandise requirement, contact our professional team for advice.
Our reputation has been built on going that extra mile, but don't take our word for it, read what our clients say. We're here to support your project and give you the benefit of all of our years of experience. We deliver exactly what you want when you want it.