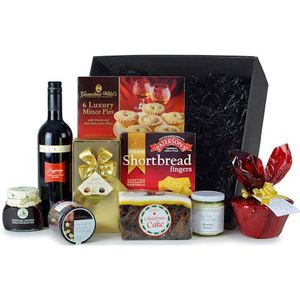 Looking for a Christmas Gift for your clients? Then why note chose a branded hamper with your company logo on… different hampers available. Call the team on 01727 223310 for more details. This hamper contains Bottle of Senso Sangiovese (75cl)
Black Jack Snacks Luxury Macadamia Nuts and Cranberries (130g) Mrs Bridges Christmas Preserve Berries with Mulled Wine (250g) Christopher James Award Winning Plum Pudding with Brandy and Port (400g) Emily Ridley's Brandy Butter (190g)
Paterson's Luxury Shortbread Fingers (380g) Heatherslaw Iced Slab Christmas Cake Grandma Wild's Luxury Mince Pies (x6)
Hamlet Luxury Belgian Chocolate Assortment presented in a Gold Gift Box with Gold Ribbon (125g).
Need leaflets in a hurry, contact our sister company http://www.stalbans.marketing/product/leaflets/