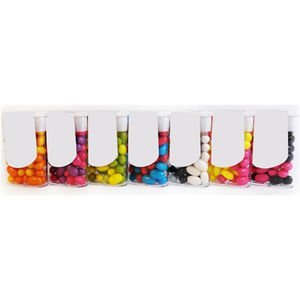 Looking for a company promotional giveaway? Then these fruity mint flavoured sweets in a 16g flip top plastic case with a full colour label. Call the team on 01727 223310 for more details.
We're a company with offices in London that specialises in providing a wide range of inspirational merchandise, including branded promotional glassware, lightweight promotional products for mailing, personalised sports and leisure gear, educational accessories for schools and illuminated point of sale.
Of course, we supply all the usual corporate gifts you'd expect like power chargers, made to order promotional clothing, low cost USB memory sticks, or pens, pencils, biros and highlighters for business.But don't feel restricted by the thousands of promotional products you see on this site. We can literally add your logo to virtually anything.And if the product doesn't exist we'll use our global merchandise network to source it, make it and deliver it.Take a look at examples of unique promotional items we've created for our clients many  of whom are based in London.Maybe you have an urgent corporate merchandise requirement.
Again, we can help by providing a 5 day turnaround service.Or perhaps you'd like access to our global network of freelance designers to visualise your logo or bring your idea to life.Our reputation has been built on going that extra mile, but don't take our word for it, read what our clients say.We're here to support your project and give you the benefit of all of years of experience to deliver exactly what you want, when you want it and being based in London, we're well placed to visit clients based inside the M25 or Home Counties.
We always strive to give the best customer service and strive to give quotes within 2 days for standard quotations and 24 hours for more complex quotes.