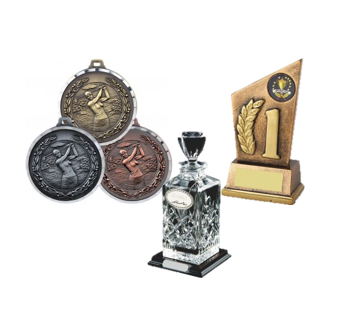 The early evenings are getting darker, leaves turning browner and soon you'll begin to see your breath in the air. It means that the end of the year is drawing closer and it will be time to to reflect on the last 12 months. This is the perfect time to think of rewarding your employees, community members or team players for their achievements through out the year. Perhaps the one who always goes the extra mile? A Thank You for many years of service? All In One Merchandise offers a huge range of promotional awards, medals and trophies which are perfect for any occasion.
Anniversaries and Milestones
Our promotional crystal diamond, globe and Artic Jade awards are beautifully crafted ranging from classic to contemporary designs. The awards speak for themselves making them perfect to show off a significant anniversary or milestone and are gifts to treasure forever.
Themed Awards, Medals and Trophies
Themed awards, trophies and medals can be as fun and creative as you like. These are great for sporting events or if you have a few characters in the office who's attributes cannot be ignored!
Bespoke Awards and Trophies
We also have a network of talented freelance designers who can work with you to create a bespoke award. These awards are perfect for small companies who have achieved an external award, but would like to showcase their achievement in the work place. Take a look at a bespoke award we created of our clients. Our client won a Facebook award for The Number 1 Most talked about Publisher. The modern wooden design and signature 'F' not only makes the award easily recognisable but also unique.
Whatever the occasions and for whatever reason, get in touch with our team on 01727 223310 or email sales@allinonemerchandise.co.uk. We will be a happy to help.