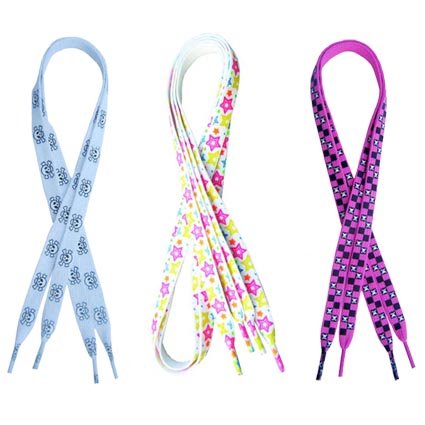 Branded Shoe Laces
When it comes to promoting your business with an accessory, why only have Tshirts or wristbands? Why not go the extra mile with these striking Branded Shoe Laces. The ideal way to promote a business on the move. These eye-catching laces will be sure to attract attention when easily swapped with regular laces on any laced shoe.
Not only would it make the perfect souvenir or giveaway at a trade show or function, but would also attract prospective customers to your unique business. Perhaps you could use these as part of a staff uniform or even serve as festival attire. The possibilities are endless when you can choose your laces to have a screen print with up to three colours. Alternatively, they can be dye sublimation printed with full-colour artwork. The freedom to express your business with any colours or patterns you wish enables you to showcase your brand in a unique and unprecedented way.
Product Details
Dimensions: 1200mm x 10mm
Material: Polyester
About Us
Here at AIOM, we can design nearly everything. Therefore, if you have yet to establish and create a logo or design for your company, we have a Graphic Design Service where you can work with our extensive database of experienced freelance designers to make your idea come to life.