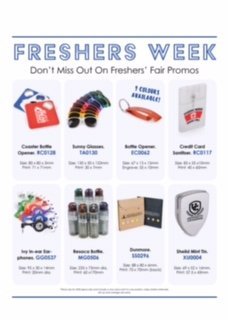 Freshers Fayre
Freshers Fayre is one of the biggest and most memorable experiences at the beginning of every academic year. It is also the best opportunity for your university club or society to gain membership. So when the flood gates open, you need to be prepared. Remember all students are potential members. Here are some tips for the day:
Make your stand/stall stand out from the crowd with attractive branded banners or posters
Promote your club or society in a fun and unique way with a huge range of branded items and giveaways
Wear branded clothing or accessories outside and around the Freshers Fayre tent to further your reach and increase presence to all students
Hand out informative flyers
Make a rota so that your stand/stall always has a representative to welcome potential members
Be friendly. enthusiastic and you will hit your membership targets easily!
Promotional Products
At AIOM we can offer a huge range of customizable products. Therefore we can help you find an item unique to your club or society. In addition if you need an order urgently, we can help by providing a fast turnaround service of 5 only days.
Don't forget to order your Fresher Fayre Promo's now! Call us on 01727 223310.